Clique aqui para ver esse post em português
I decided to copy the
Série Snortando
of my friend
Rodrigo "Sp0oKeR" Montoro
, and even at his suggestion, create a series of posts about
ModSecurity
.
The idea of ​​these posts is not to be a step by step guide or a ModSecurity manual, but write about my day-by-day work in settings and resolutions of problems in its use. I think it will be useful for others, and even for me, I'll be documenting some procedures that might later forget. ;-)
I always intend to post a version in Portuguese and one in English of the same post, and the frequency of the posts will be weekly. You can also use the comments to suggest topics to be addressed in future posts, with your issues.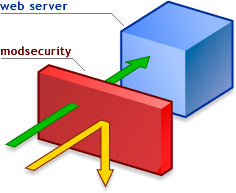 I start this series talking a little about
ModSecurity
and
WAF
(Web Application Firewalls), if you want an introduction about WAF, you can see the presentation I made in March 2011 in
OWASP Porto Alegre
First Meeting, which is available here (portuguese):
An excellent presentation that covers some
WAF
concepts was made by
Carolina Bozza
in
Hack Conference
, and is available here:
http://www.bhack.com.br/talks/Carolina/BHACK.pdf
.
If you have not installed yet
ModSecurity
, I've created a post (which is already outdated, maybe I will update it here in this series in the future) on how to install
ModSecurity 2.6.1-rc1 + CRS (Core Rule Set) 2.2.0
.
Currently,
ModSecurity
version is 2.6.7 (stable), and CRS rules file
(Core Rule Set)
is at version 2.2.5.
It was also announced that the ModSecurity has been
ported to IIS
. It will be soon ported to Nginx as the
Trustwave
announcement
through its
SpiderLabs team
.
In fact, Trustwave is currently the company maintains the
ModSecurity
, where
Ryan Barnett
and brazilian
Breno Silva
are the main developers of the project.
Trustwave
, among other services in the area of ​​security, provides support services and have a set of trade rules that are not distributed in the CRS for use in ModSecurity on their customers. More information about the services provided by
Trustwave
with ModSecurity can be seen here:
Trustwave ModSecurity Rules and Support Services
.
ModSecurity Documentation:
There are a lot of documentation available in internet about ModSecurity, almost entirely in English. But the project has considerably changed in recent years, and sometimes the documentation found in Internet is outdated and can no longer be used. So here are some references that I recommend:
- Official documentation of the project, straight from the version repository: SVN repository of the project have a documentation area, and whether a new functionality is added or changed, it will first be documented there. More updated is impossible:
http://mod-security.svn.sourceforge.net/viewvc/mod-security/m2/trunk/doc/
. This reference manual is available after in the
official project Wiki
.
-
Handbook
of
Ivan Ristik
, who was the ModSecurity author, but that is no longer developer of the project. This book is very good mainly because Ivan provides its update constantly, so it does not get outdated. It is worthwhile to buy this book if you want to use ModSecurity, mainly because this policy of updating and digital distribution.
-
Mod-security-users
e
Owasp-modsecurity-core-rule-set
mailing lists.
This post has been long, and the intention is that this series is just short posts. See you later! :-)